About The Company
COMPANY PROFILE
Established in the year 2005, Akshay Fasteners is an ISO 9001-2008 company manufacturer, exporter and supplier of a wide range of stud welding machine and weldable fasteners.These include Insulation Pins, Insulation Clips, Capacitor Discharge Studs, Short Cycle Welding Studs. In addition, we also provide Stud Welding Collets, Arc Welding Studs, Ceramic Ferrules and Cold Forged Items. These are manufactured using mild steel, stainless steel, aluminium alloy, brass, copper and others. Our strength as a leading manufacturer lies in our sophisticated manufacturing unit equipped with modern machinery.
With the assistance of our highly skilled professionals, we are able to accomplish the goal of our organization. Our quality controllers rigidly check our range of fasteners to ensure defined industry standard. We provide our range of products in both standard as well as customized sizes as per the client's requirements. Our organization is headed by Mr. B.L. Koppikar whose meticulous and sincere efforts have helped us in establishing a remarkable position in the industry. With their rich industry experience, we have garnered a wide client base in the domestic market.
Quality Check & Packaging
We have our own specialised team to work on developing specified Stud Welding Machine for the right use with minimum expenses for the industries.
Buy Now
Production Unit - I
We engineer growth, yes our every weldable fasteners are manufactured with more perfection, quality material, and standard guidelines.
Buy Now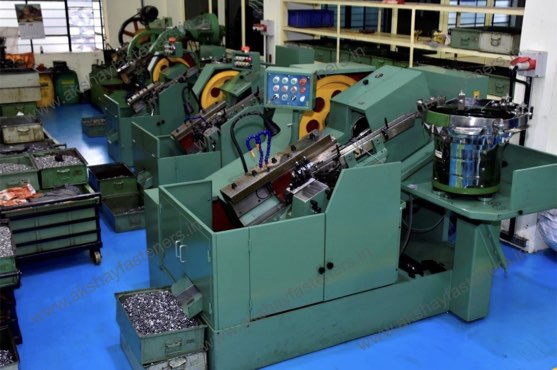 Production Unit - II
We have enabled our quality team to match the globally followed standards and principles to serve the industries efficiently highly efficient products.
Buy Now
INFRASTRUCTURE
We have a well developed infrastructure located at MIDC, Bhosari, Pune, and sprawls across a wide area. Well segregated into different units such as manufacturing unit and warehouse unit, we are able to meet the bulk requirement of our clients within short span of time. Our manufacturing unit is installed with hi-tech machines such as:
HEADER MACHINE
THREAD ROLLING MACHINE
TRAUB MACHINE
GRINDING MACHINE
WELDING MACHINE
DRILLING MACHINE
TAPPING MACHINE
LATHE MACHINE
Each machine is regularly cleaned and lubricated to ensure smooth and effective functioning. Our in-house design unit enables our skilled workforce to produce welding studs in standard and customized sizes.
FACT SHEET
Basic Information
Business Type

Manufacturer
Exporter
Supplier

Industry
Weldable fasteners
Registered Address
17/18, Rajguru Nagar Co- Operative Industrial Estate, T - 106 / 2, T. Block, MIDC, Bhosari,
Pune - 411 026, Maharashtra
Ownership and Capital
Year of Establishment
2005
Legal Status of Firm
Proprietorship Firm
Proprietor Name
Mr. R. R. Tapkir (CEO)
Trade & Market
Annual Turnover
Rs. 1 - 2 Crore ( or US$ 200 K - 400 K Approx.)
Team & Staff
Total Number of Employees
Upto 10 People
Company USP
Primary Competitive Advantage

Experienced R & D Department
Good Financial Position & TQM
Large Production Capacity
Provide Customized Solutions

Quality Measures/Testing Facilities
Yes
Statutory Profile
PAN No.
ABYPT9729Q
Central Sales Tax No.
27880280667C
TIN No. / VAT No.
27880280667V
LBT No.
PCMC- LBT- 0017776
Banker

ICICI BANK LTD
COSMOS BANK

SSI No. / MSME No.
111959335
Packaging/Payment and Shipment Details
Customized Packaging
Yes
Payment Mode
OUR STRENGTH
Some of the reasons why our clients have put their trust and hold on us:
Efficient order processing systems
Transparent trade practices
High product quality
Competitive prices
Accurate customization
Timely delivery
OUR TEAM
We have deployed a team of diligent professionals which helps us in carrying our business activities flawlessly. Due to their dedication and passion, we are able to offer the best services to our clients. Our team comprises technicians, engineers, R&D personnel quality controllers, warehouse personnel and sales & marketing executives. The fabrication work is undertaken by our skilled technicians with utmost perfection. Our engineers work in sync with R&D experts who provide latest technological methods to be incorporated in our product range. Quality controllers stringently inspect these fasteners to ensure defined industry standards.
OUR QUALITY ASSURANCE
Being an ISO 9001-2008 certified organization, it is evident to maintain strict quality norms in our entire business activities. Our range of studs is subjected to inspection and testing conducted by our quality controllers. The studs are tested by mechanical / destructive testing, using a torque wrench, which indicates whether the strength is within prescribed torque value. Our range of products is manufactured in compliance with following standards:
ISO 9001-2008
D & B No 65-054-7016
Further, test certificates are issued as per standard Quality Control norms and the non-destructive inspection can be conducted by using a torsion meter or other methods. Our quality control management tests these fasteners on the following parameters:
Raw Material TC
Pre Dispatch Inspection Reports
Plating TC
RESEARCH AND DEVELOPMENT
Our team of Research and Development helps us to manufacture our range weldable fasteners as per the latest industry developments. We are supported by our R&D experts who work solely to find out innovative techniques and designs to meet the technical requirements of our clients. These professionals consistently perform market surveys to understand the changing demands of the industry. Based on their analysis, we are able to make necessary changes in our existing range and thus enhancing its effectiveness. Further, with their in-depth knowledge help us to develop a technically advanced manufacturing unit.
Top